On August 4, 2020, the Chairman of CAMCE Wang Bo led a team to visit Pizhou. Wang Bo exchanged views with the Mayor of Pizhou Cao Zhi on deepening cooperation between the two parties, and inspected the Wastewater Treatment Plant in the north of the city. Fu Xu, Deputy Mayor of Pizhou, Zhou Xiang, Director of the Municipal Water Affairs Bureau; Li Haixin, Deputy General Manager of CAMCE, and Yang Dong, Assistant to General Manager and Chairman of CAMCE Water Co., Ltd., attended the above activities.
  During the meeting, Wang Bo briefed Mayor Cao on the development of SINOMACH and CAMCE, as well as the company's subsidiary companies China IPPR and BMHRI. Wang Bo said that CAMCE is one of the main force and pioneers of the Belt and Road initiative. In the new era, CAMCE will increase its investment in the domestic market and take the opportunity of cultivating new opportunities and create new situation in domestic and international markets, which will be developed equally in order to truly integrated into the country's new development pattern with the domestic cycle as mainstay and mutual promotion of national and international dual cycles.
  Wang Bo expressed his gratitude to the Pizhou Municipal Government for its long-term support to the Wastewater Treatment Plant of CAMCE, and said that the company would use its scientific and technological strength to support its fine management, and actively participate in the construction of more environmental protection projects in Pizhou, improve the efficiency and business scale to create high-quality benchmark projects.
  Mayor Cao said that enterprises must have a sense of social responsibility, and that municipal engineering construction is closely related to people's welfare. Pizhou hopes to cooperate with professional companies with good reputation and strong qualifications to ensure the provision of quality services to the public. He also noted that Pizhou and CAMCE have a good foundation for cooperation, and CAMCE is welcomed to actively participate in the construction of related projects in Pizhou to create high-quality projects.
  During the investigation, Wang Bo went to the Wastewater Treatment Plant in the north of Pizhou City. He visited the central control room, laboratory, process pool and park, and learned in detail about the operation of the water plant, technical processes, equipment and facilities. Wang Bo affirmed the operation and management of the treatment plant, and pointed out that the treatment plant should continuously improve its technical level, optimize management methods, and promote the efficiency and quality of the treatment plant.
  The Wasterwater Treatment Plant in the north of Pizhou City is the first BOT project successfully operated by CAMCE. It has been in continuous operation in the local standard for about 10 years and has undertaken a large amount of municipal water treatment work in the local area to contribute to local energy conservation and emission reduction.
  Chen Jian, General Manager of CAMCE Water, and Liu Huizhen, General Manager of CAMCE Water in Pizhou attended the meeting.
  Wang Bo visited Cao Zhi,Mayor of Pizhou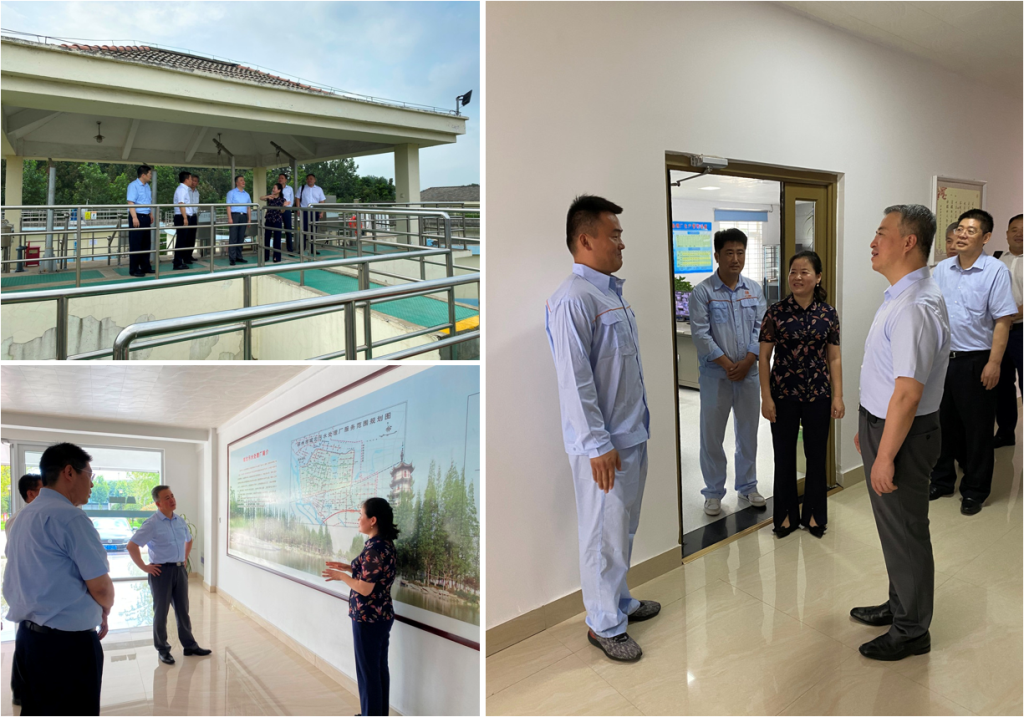 Wang Bo investigated the Wastewater Treatment Plant in the north of Pizhou City